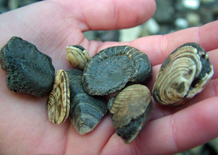 Event Phone: 028 9061 4115
Colin Glen is an amazing site with history dating well before the age of the T-REX, Join our Park Ranger & Learn about our pre-historic past.
Join our experienced Park Ranger as he tells the geological history of Colin Glen and the Belfast Hills. Go on a fossil finding expedition in the park to search for the remains of ancient creatures – who knows what you might discover! Learn about our prehistoric past & you may just be lucky enough to take a piece of history home with you. Our fossil hunt will be a sell out event.
Suitable For: Suitable for all ages, under 16s must be accompanied by an adult.
What To Bring: Wear wellies and outdoor clothing. Event includes some moderate, uphill walking.
Price: £4 Adults, £3 Children
Tel 028 9061 4115
Book Online @ https://www.colinglen.org/portfolio/fossil-hunt-2/
DATE & TIME
Fossil Hunt
23/07/2017
1:00 pm - 4:00 pm
Colin Glen Forest Park
BELFAST HILLS WALKING GUIDE
EASY ACCESS
GENTLE
LEISURELY
MODERATE
STRENUOUS
BIODIVERSITY
HERITAGE
SYMBOLS
FURTHER INFORMATION