An urban oasis of woodland, grassland and old mill races on the outskirts of north Belfast.
This area that was once at the heart of the Belfast linen industry, has undergone a renaissance of interest with a network of paths along former dams and mill races.
The site, which is perfect for the leisurely walker and children, derives its name from 'Lag an Aoil' meaning 'hollow of the limestone' as it snuggles into the hollow of Wolf Hill.
It hosts a charming array of wildlife including several species of bat, dragonflies, damselflies and wildfowl – and there is a local fishing club.
Google Streetview links of Ligoniel Trails
Click on Images and explore!
Just off the main Ligoniel Road, opposite Mill Avenue, Ligoniel Park boosts mature trees, impressive views over north Belfast, scenic walks and interesting wildflowers which grow on the area's limestone.
Ligoniel Park was formed from the grounds of Ligoniel House, which was owned by the manager of the old Ligoniel mill. The park's pond was once a mill dam, known locally as Boodle's Dam.
The Park has a series of outdoor gym equipment and also provides an access link for walkers to Cave Hill Country Park.
Where to walk….
Explore over a mile of pathways passing the old mill before climbing the steps into woodland and along the top of the dam site. Heading south towards Forthriver, there is a network of paths with great views of the city, Divis Mountain and the Mournes

Further Information….
By car
(BT14 8EG) From Belfast take Westlink Clifton Street exit and turn left. At roundabout take second exit onto Crumlin Road. After 2 miles turn left onto Ligoniel Road and take a left at Mill Avenue (you will have reached the end of the housing area at this left hand turn), continuing along Wolfhill Avenue South to Thornberry Road. Please consider residents when parking in this area. Ligoniel Park is right on the main Ligoniel Road and opposite Mill Avenue.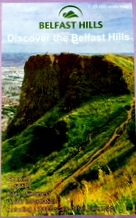 Public transport
Metro* 57/57A from Chichester Street or Royal Avenue, alighting Mill Avenue. Take care if crossing the road into Ligoniel Park. To access the Dam site, continue to Wolfhill Avenue South, onto Thornberry Road and Thornberry Mews.
*Check timetables before setting out at www.translink.co.uk
There is open access to this site all year round
There is a children's storytelling area featuring wooden carved seats
A platform for pond dipping is installed
The site also has an orchard and there are steps with handrails
Fishing is organised in the area. Contact the Ligoniel Improvement Association for details on 028 9039 1225
AT A GLANCE
Dogs
Benches
RECREATION GUIDE
HISTORY OF THE HILLS
ENJOY YOUR VISIT?
Do you have any pictures or thoughts about your visit?
Share them with us on FaceBook and Twitter