Belfast Hills Partnership is delighted to launch a new insert for the Belfast Hills Ordnance Survey Map.
Originally launched in 2014, the Ordnance Survey Map of the Belfast Hills provides an in-depth overview of the main publicly accessible sites within the Belfast Hills. The first edition includes detailed maps of three key sites; Cave Hill, Slievenacloy and Carnmoney Hill. Additionally, the entire area of the Belfast Hills is mapped out.
The new map includes the expanded Slievenacloy Nature Reserve, at the southern end of the hills, and Glas-na-Bradan Wood owned and managed by The Woodland Trust Northern Ireland, to the north.
Slievenacloy Nature Reserve
Ulster Wildlife has expanded Slievenacloy Nature Reserve through the purchase of an extensive area adjacent to the original site. The site is now 258 hectares, equivalent to about 480 football fields. This expansion will hopefully boost and protect the areas biodiversity.
Slievenacloy is also designated as an Area of Special Scientific Interest. This is because it is one of the best species-rich grassland sites in Northern Ireland. It is home to a host of diverse and fascinating wildflowers and wildlife – such as orchids, common lizards, waxcap fungi, and skylarks.
Glas-na-Bradan Wood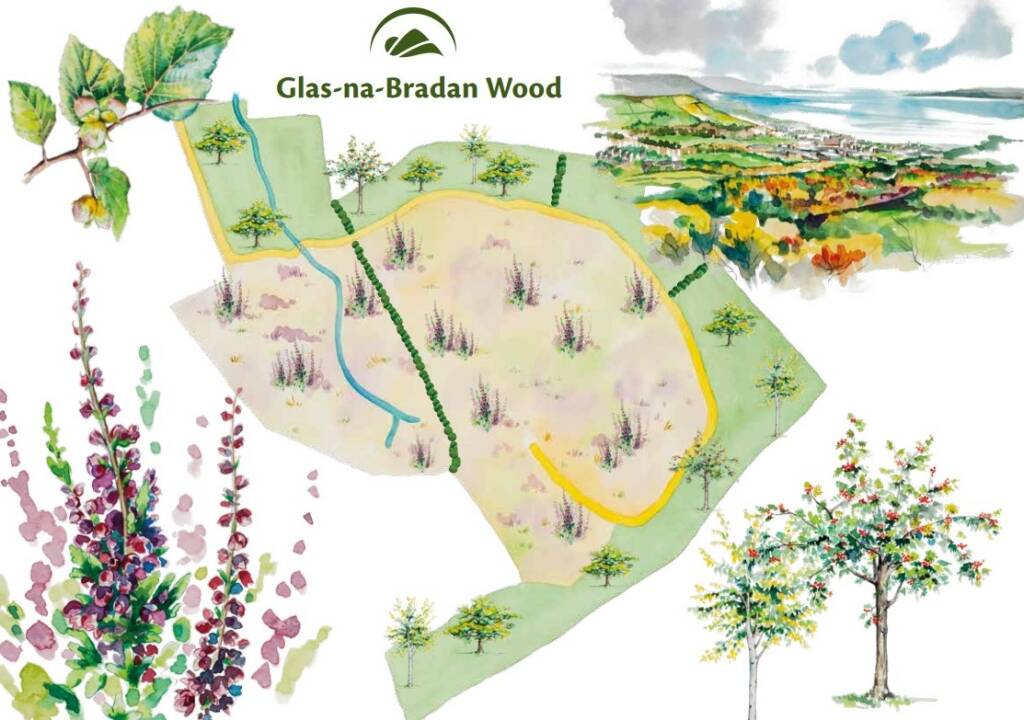 In 2021 the Woodland Trust Northern Ireland bought 98 hectares of agricultural land within Collinward with ambitions to create a new native woodland for people, nature and climate. Glas-na-Bradan Wood, a name chosen by public poll, means 'Stream of the salmon' and refers to a creature from Irish mythology. When the salmon eats nine hazelnuts from the stream it gains wisdom. Finn McCool ate the salmon, and it's wisdom was passed on. An art installation of the salmon swimming in the Glas-na-Bradan stream gives a nod to the site's association with folklore.
Both sites have now been mapped for the first time and are included as an insert to the existing Belfast Hills Ordnance Survey Map. Containing original illustrations by artist, Kathryn Callaghan, the inserts highlight important features, species and habitats.
With the rise of and reliance upon digital maps I still believe there is something special about a paper copy of a map. As well as containing information that a standard or digital map may not contain, it is always useful for hillwalkers to have a paper copy of the location they are at as a back up in case of a phone running out of battery or signal.


Jim Bradley, Belfast Hills Partnership Manager, speaking about the new inserts.
Ordnance Survey Map inserts are available to order from the Belfast Hills Partnership website.  The Map is also available at the following outlets: Visit Belfast, Jackson Sports, Scout Shop NI and Wolfhill Community Centre. The map retails at £4.00 per copy (postage charges apply if bought through the website).
The Ordnance Survey Map insert was produced by Belfast Hills Partnership with funding from DAERA Environment Fund.