Wild Youth has hosted a week-long celebration in recognition of Great Big Green Week. Wild Youth is a joint project between the Belfast Hills Partnership and Ulster Wildlife, funded by The National Lottery Community Fund for Northern Ireland.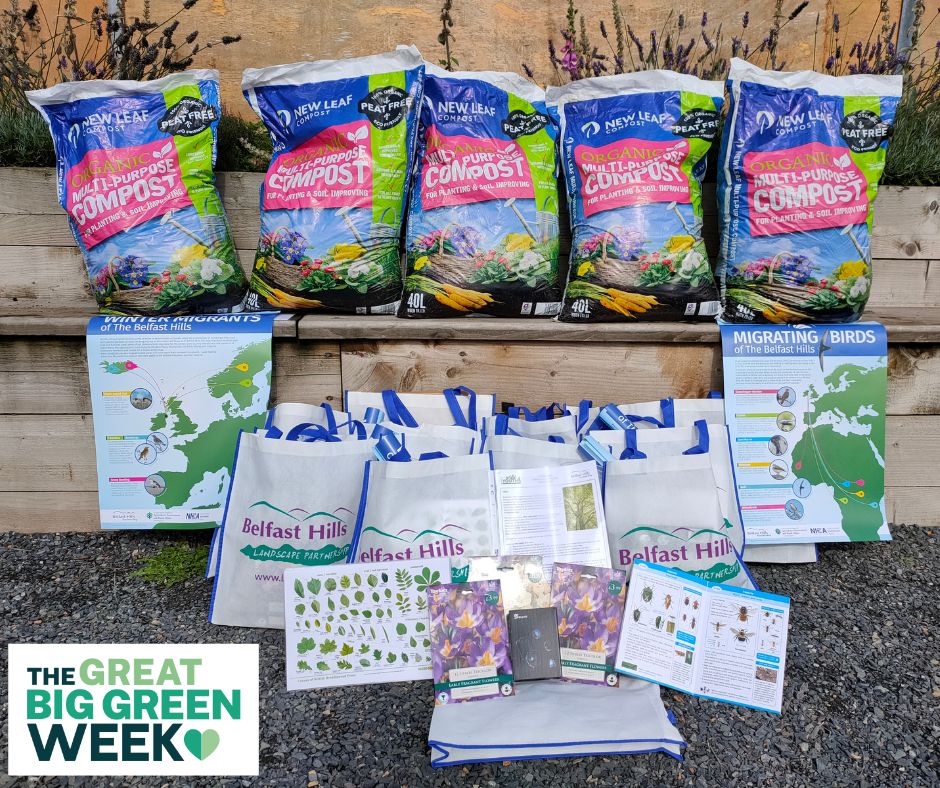 The Great Big Green Week is a national celebration of community action tackling climate change and nature loss. The Great Big Green Week took place from 24th September to the 2nd of October this year. It is a way for communities to come together, while also calling on decision makers to act on climate change.
To mark the week, Wild Youth selected Hazelwood Integrated College as their chosen school for 2022. In the run up to the week, the school received a Resource Pack to help support environmental learning. The pack contained:
compost donated by Natural World Products to help support our work with schools
crocus corms
native wildflower seeds
Belfast Hills Partnership Bird Migration Posters
Belfast Hills Partnership / Wild Youth Environmental Education Resource Guide
Belfast Hills Partnership USB pen drive
plant pots
invertebrate ID guides
macro camera lens for tablet devices/phones
bug pots
tree ID guides
The packs contain resources to support learning both in and outside of the classroom through practical lessons. By supplying seeds for planting it is also hoped that the grounds of Hazelwood Integrated College can improve in biodiversity.
Year 9 pupils were also selected to take part in bird-ringing sessions throughout the week. Through the hands-on sessions, students got to encounter some common birds from the local area up close. Daily sessions, delivered by Aidan Crean, helped students understand the importance of monitoring and recording population numbers. The sessions demonstrated how bird-ringing informs our understanding of bird survival and decline. Aidan was delighted by the enthusiasm shown by all classes throughout the entire week.
Patricia Deeney, the Outreach Officer at the Belfast Hills Partnership, said:
We hope that by delivering the Resource Pack and educational sessions to Hazelwood Integrated College that we can unite and encourage young people to safeguard our planet, show love and appreciation for wildlife, and to turn the tide on the climate and biodiversity crises. With climate anxiety becoming more prevalent among young people there has never been a better time to encourage practical measures and incorporate outdoor learning into the curriculum.
With thanks to Natural World Products for compost donation, The National Lottery Community Fund Northern Ireland for funding the Wild Youth Project and The Climate Coalition for organising The Great Big Green Week.