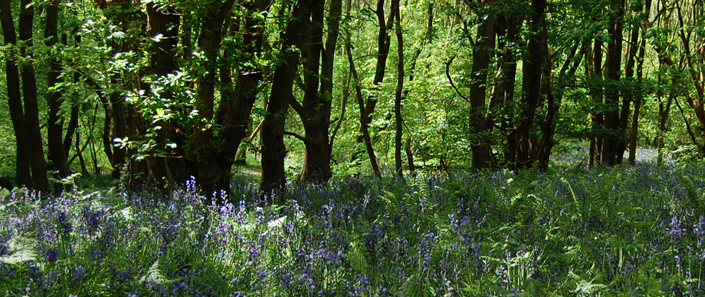 Now up and running, the Woodland Trust project will see the restoration of woodland in Northern Ireland – identified as a priority area.
Ancient woodland is land that has been continuously wooded since 1600. These unique undisturbed soils and ecosystems contain our richest land habitat.
They are home to a host of rare, protected and threatened wildlife – 256 species of conservation concern are associated with ancient woodland; species that are slow to react to change, find it difficult to adapt, and are not mobile enough to move to other locations to survive.
Thanks to a £1.9 million boost from the Heritage Lottery Fund, the Woodland Trust has started the project that could see the restoration of up to 52,000 hectares (200 square miles) of damaged ancient woodland across the British Isles.
Ancient woodland – which links back to the last Ice Age 10,000 years ago – is scarce and irreplaceable, and supports a complex web of species, some rare and vulnerable. In the 20th century, many of our precious ancient woods were felled and replanted with non-native conifers in the post-war drive for timber self-sufficiency.
Ancient and long-established woodland cover a mere 0.7 per cent of the Northern Ireland landscape and total less than 10,000 hectares. Over 40 per cent of this tiny area has been degraded by the planting of conifers, while other sites have been damaged by invasive species such as rhododendron.
Project officer Michael Topping (right) from the Woodland Trust will offer information, advice and training to help local landowners restore conifer woods to their natural broadleaved state, and to control harmful invasive species such as laurel and rhododendron.
"This is an excellent opportunity for landowners in Northern Ireland. We're offering specialist support to make the ancient woodland restoration process as straightforward as possible. As well as the aesthetic and wildlife benefits, landowners can enjoy some income from selectively felled trees, while future management, for instance in the form of coppicing, could produce a sustainable source of wood fuel," said Michael.
"Ancient woodland restoration must be done sensitively. It requires time and careful management, and, actually, is all about light," he said.
"The gradual removal of dense conifers and invasive species slowly opens up the canopy, allowing sunlight to filter in and giving precious species – our native trees, plants, fungi and mosses – a chance to thrive once more."
---
There's an opportunity to find out more and meet the Woodland Trust team at the Irish Game Fair, Shane's Castle, Antrim on Saturday 28 and Sunday 29 June. This will also be a chance to hear about future events and activities aimed at contractors, professionals and specialist groups, as well as volunteer opportunities
In the meantime, interested landowners can contact Michael Topping on 028 9056 9556, email [email protected] or visit www.woodlandtrust.org.uk
Using money raised through the National Lottery, the Heritage Lottery Fund (HLF) aims to make a lasting difference for heritage, people and communities across the UK and help build a resilient heritage economy