Carnmoney Hill has a wealth of history and a honey pot of wildlife with grassland, wetland, wildflower meadows and ancient woodland.
This 203 acre site is home to badgers, foxes and Irish Hare, has an abundance of ancient features including a network of prehistoric engineered, underground tunnels called souterrains.
Dunanney Rath is here and the remains of Victorian limekilns and water well.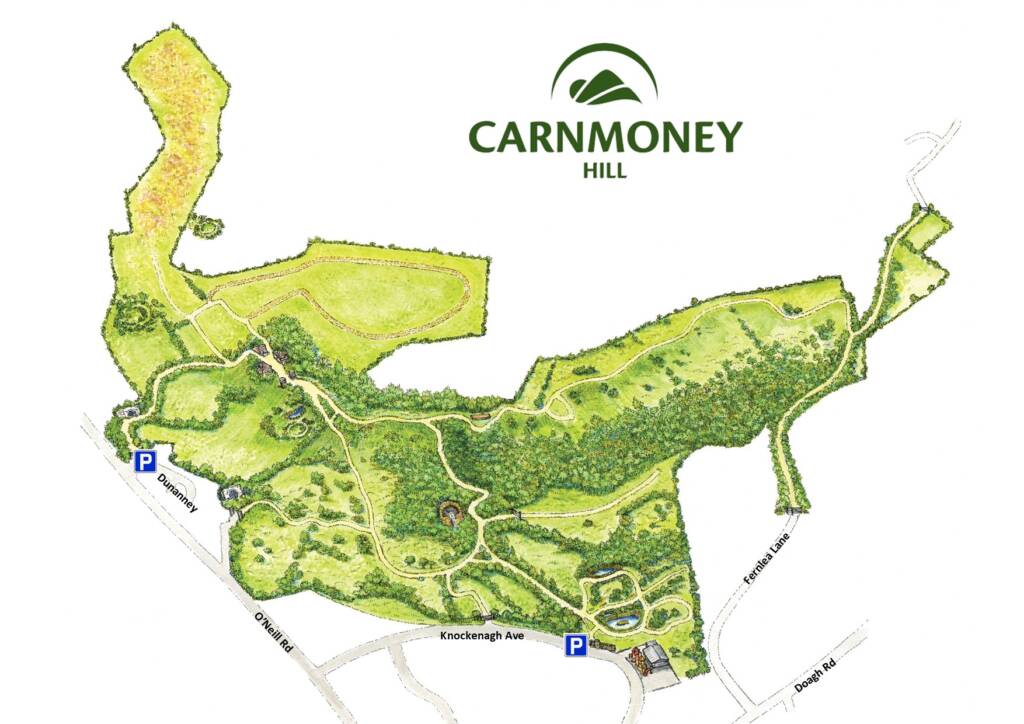 'Carn Monaidh' means 'cairn of the hill', while Dunanney comes from the Celtic sun goddess Áine, associated with fertility of the land, and translates as Dun Áine or Áine's fort.
Lilian Bland became the first woman in the world to build and take to the air in her Mayfly biplane in 1910 – so called because she said it "may fly or may not fly".
Carnmoney Hill presides over Belfast Lough in the borough of Newtownabbey.
Where to walk….
Lower Woodland Walk
Yellow route – a 45 minute walk through ancient woodland to a viewpoint overlooking Belfast Lough. This is a cross-country walk with some steep sections.
Gentle Stroll
Red route. Enjoy a 15 minute saunter around the pond at the foot of the ancient woodland. There are 800m (870 yards) of pathway through the pond, island and grassland area.
Hilltop Walk
Blue route – a two-hour walk across the top of the hill with spectacular panoramic views of Belfast city, across Belfast Lough, north Down, south to the Mournes, north-west to Slemish Mountain, and north to the Antrim coast. This is a cross-country walk with some very steep inclines. A good route would be to park/start at Rathfern centre and walk through the residential estate to Doagh Road, then left countrybound along the road for about 300 yards, turning left at Fernlea Park. Fernlea Lane goes up and into the site. Finish the walk back at Rathfern centre.
Access Code
Before you go download our access code. This code provides general guidelines on how to look after yourself and the environment when out in the Hills.
Google Streetview links of Carnmoney Trails
Click on Images and explore!
There is open access to this site all year round.
Rathfern social activity centre – just beside the Knockenagh Avenue entrance of Carnmoney Hill – is open and available for use by visitors to the site. Users are welcome to make use of the centre's changing and toilet facilities.
For additional peace of mind you can request a radio to take on your walk in order to contact staff should you get into difficulty. Refreshments can be bought at the tuck shop with room hire also available.
The centre is run by local volunteers and is open from 9am to 9pm, Monday to Friday. Contact staff if you wish to use the facilities on Saturdays or Sundays.
Call 02890 865 917 or email [email protected]
Further Information
There are numerous pedestrian entrances to the site, however the two main entrances with Car Parking facilities are Knockenagh Ave and Dunanney Lane (directions provided below).
Parking can be accessed 24/7
By car Knockenagh Avenue entrance (BT36 6BE) From M2 continue to M5. Follow sign for Carrickfergus, then left (signed Glengormley) onto Station Road. At mini-roundabout exit straight onto O'Neill Road (B531) and take first right after traffic lights onto Knockenagh Avenue. Free parking along roadside at Rathfern social activity centre and children's play park.
Knockenagh Avenue, Whiteabbey. Google streetview
Dunanney lane entrance (BT36 6ZA) From M2 continue to M5. Follow sign for Carrickfergus, then left (signed Glengormley) onto Station Road. At mini-roundabout exit straight onto O'Neill Road (B531), pass the petrol station, the next road on your right is Dunanney lane. Free car parking on your left (small car park, so spaces are limited).
Dunanney Lane, off O'Neill Rd.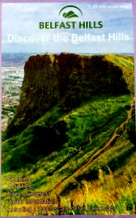 Public transport: Translink Metro: From Upper Queen Street. Routes 2C/2D/2E/2H/13/13C/14/14C, alight Whiteabbey Hospital. Walk 300m Doagh Road country-bound. Turn left into Knockenagh Avenue and walk uphill to children's play park.
Check timetables before setting out at www.translink.co.uk

AT A GLANCE
Community Centre / Toilets
Refreshments
Car Parking
Dogs
Play area / seating
RECREATION GUIDE
HISTORY OF THE HILLS
ENJOY YOUR VISIT?
Do you have any pictures or thoughts about your visit?
Share them with us on FaceBook and Twitter