Colin Glen Forest Park is a beautiful wooded river glen on the edge of Belfast and Lisburn. It comprises 200 acres of scenic woodland, river, open grassland, waterfalls and wildflower areas.
Colin Glen was a major player in the Belfast linen industry with the McCance family establishing flax and beetling mills along the Colin River. The remains of the mill race can still be seen at the weir bridge. Water was also diverted to the nearby Half Moon Lake – now an area for wildlife in the heart of the Lenadoon housing estate.
Google Streetview links of Colin Glen Trails
Click on Images and explore!
Colin River flows past a fantastic fossil bed with spate floods bringing down a range of material including ammonites, crinoids and even sharks teeth.
The site contains the SkyTrek activity course and has Green Flag status.
Where to walk….
Ballycullo Trail
Blue route. A 2.8 mile (4.5km) route, which takes in panoramic views of Belfast including the Mourne Mountains, Stormont and Harland and Wolff.
Hannahstown
Red route. This 4 mile (6.5km) route is most suited to the serious walker and leaves lower Colin Glen into the National Trust owned upper Glen.
Englishtown Trail
Yellow route. This 2.3 mile (3.5km) route follows the river along much of its route through broadleaf woodland and is both pram and wheelchair friendly.
Tom of the Tae End
Green route. This 1.5 mile (2km) route leads you as far as a Gamekeeper's bridge where a toll was once charged for crossing the river. A section of steps are optional.
Further Information….
By car (BT17 0HW) Leave M1 at Junction 3. Turn right off slip road under M1 bridge, straight onto Blacks Road. Go to T junction at the end of Blacks Road and turn left. After the next set of traffic lights continue for 100 metres. Colin Glen car park is on the right
Colin Glen entrance from Stewartstown Road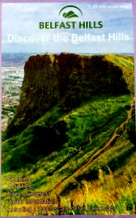 Public transport
Translink Metro* 10C/10D/10G/10H from Queen Street, Belfast. Alight Woodbourne. Colin Glen Forest Park is country-bound past the church on the corner. Look for brown sign bearing name. Go into car park and the gates of the park are directly in front of you.
West Belfast Taxi Association from King Street, Belfast. *Check timetables before setting out at www.translink.co.uk
AT A GLANCE
Toilets / Disable WC
Dogs
Parking
Café
RECREATION GUIDE
HISTORY OF THE HILLS
ENJOY YOUR VISIT?
Do you have any pictures or thoughts about your visit?
Share them with us on FaceBook and Twitter